Review
Paradox Interactive has a long history of making unique games that also happen to be buggy as all hell. Ship Simulator Extremes fulfills one of those requirements, but unique doesn't always mean good. Ship Simulator Extremes (yes with the 's') is exactly what you would expect. A simulator of driving ships. And while even I was put off by the initial concept, as it didn't sound incredibly enticing, I gave it a good chance. A very good chance.
It started bad, and then simply got worse. For a game that was made in 2010, it should not take around five minutes just to load up. Battlefield 3 loads up faster on Ultra Settings. I waited five full minutes for the game to load and then decided I wouldn't take that into account too much. I was greeted by a fancy menu and decided to check out the campaign, hoping for some sort of tutorial. Nothing. The campaign menu loads up to find a series of different scenarios with loads of missions for each. How cool, I thought. While I was a bit ruffled by the lack of any guidance, the quantity of missions was a large boost in morale. Yet another mistake. To make this easier, I'm going to take you through the first mission I played, because all in all they're pretty much the same thing. Every. Single. Time.
It started with a 5 minute mission load. Yes. Another five minutes on top of the five that I spend waiting for the game to initialize. After that, I was greeted by an interface and a humming silence. No background music. Yet, I trudged on. Amidst the silence I looked around the UI, found some new camera angles and then accidentally caused the boat go forward. "Exit the port!" said the mission objective screen. The exclamation point did not make it any more fun. I moved my mouse forward to start the throttle and got it going full speed, marveling at the poorly rendered water surrounding me. It took ten minutes of going forward to hit another objective "Someone is dumping oil! Your boat is too slow" (Yeah no kidding) "Deploy the RIB to catch up to them!" All the exclamation points included. So I deploy a different boat and take another couple minutes to get up there. That's when the fun part hit. I ran into the liner that was dumping. What happened? I stopped dead in my tracks and bounced to the side. Yup. A boat simulator where you can't crash either. Great. I circled the boat waiting for the next instruction. It took four spins around the boat until I hit the apparently very small sweet spot. Then I got hit by an oil drum and sunk. A full speed collision into the side of a boat twenty times my size did nothing. A small oil drum though? Watch out! (Exclamation point included).
Even the boats don't have any variety. There are a few small differences between the individual craft, but they mostly control the same. Speaking of controls the mouse has to hover over small representations of boating mechanics, including the throttle and wheel (the only two you'll ever use). And instead of circling the wheel with your mouse, it moves on a left to right scale, nothing that is dictated by any UI elements. Nothing. That just came from trial and error. The DLC included in the collection has different ships and missions but nothing that changes the quality of this game.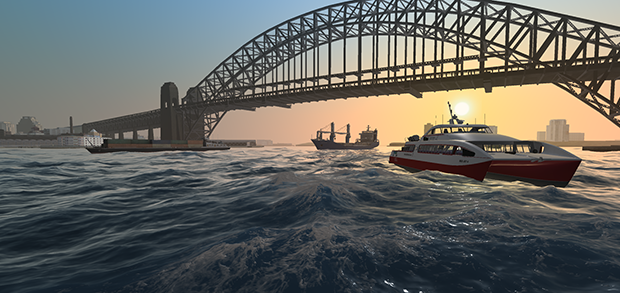 I do have one good thing to say though. You can walk around the boat in first-person. There.
Despite its name, Ship Simulator Extremes is not extreme in any way. Unless you're talking about the extreme loading times, extreme lack of music, extreme rides to the middle of nowhere and the extreme boredom I felt while waiting an extremely long time for the fun part to come.